Telekinesis
Talk

3
1,920pages on
this wiki
Telekinesis is the ability to move something with one's mind, which is generally channeled through the hands. In the series it's one of the most common supernatural powers. It has been employed by humans through magic like witchcraft and sorcery or from being a psychic or medium. It's one of demon's most common powers. The pagan gods normally have this power. Angels have used this power.
Levels of Telekinesis
Basic Telekinesis: This level of telekinesis is for basic practitioners. Normal uses, is throwing others on to the wall or knocking them on to the ground.
Advanced a Telekinesis: This level of telekinesis is for advanced practitioners. Users of this level of telekinesis have shown able to stop bullets, torture others by crush organs or specifically targeting parts of the body; often resulting convulsing blood. At its highest level one can do amazing feets. One is telekinetically ripping something like a human apart on the subatomic level. Another, is the power to affect and reshape reality.
Characters with this ability
Edit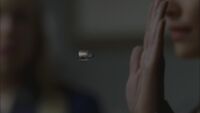 Demons use this ability quite frequently to pin people against walls and have done so multiple times to stop them from moving.
Angels use this ability as well but not as often, and it is often more powerful than demons. They also show incredible precision and greater control over this ability.
Ghosts also display this ability fairly frequently, one of their most displayed powers.