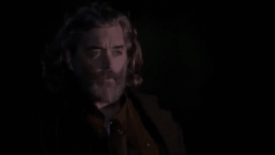 Telekinesis is the ability to move or otherwise exert force on objects or people from a distance and without physical contact. The ability is often used with gestures, other forms of bodily motion. However, it is also used with some form of mental effort, as well as with strong emotion. It is one of the most commonly used supernatural powers in the series used supernatural powers in the series. It has been employed by humans through magic like witchcraft and sorcery or from being a psychic or medium. It is one of the notable and commonly employed abilities used by demons. The pagan Deities normally have this power as well. Primordial Entities and Angels also have used this power.
Levels of Telekinesis
Edit
Basic Telekinesis
Edit
This level of telekinesis is for basic practitioners, who are capable of moving or otherwise exerting force on small to medium sized targets, but usually only what they are able to perceive with physical senses. Offensive and defensive uses including grabbing, lifting or knocking down from a distance, pinning them to walls or sending them flying through the air a great distance.
Advanced Telekinesis
Edit
This level of telekinesis is for advanced practitioners, who can exert more extreme and precise amounts of force on targets that cannot normally be perceived (such as organs) and can can even defy extreme forces already exerted on a target (such as the force propelling a bullet). Therefore, users of telekinesis have demonstrating being able to stop bullets or cause internal damage. Advanced users are able to generate more force that basic users, enough to suspend the movements of targets and immobilize them. They are able to torture others by crushing organs or specifically targeting parts of the body, which often resulting in the receiver convulsing and coughing up blood. Their more extreme precision allow them to not inflict lethal or truly debilitating damage, unless they want to. At its highest level one can accomplish amazing feats, such as telekinetically ripping a person apart on the subatomic level, resulting in the target bursting into a spray of blood.
Characters with this ability
Edit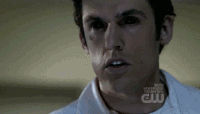 Angels, Seraphim and Archangels - They rarely use this ability but they have been shown to use it. Castiel, for example, used telekinesis to open Bobby's Panic Room to let Sam escape and Naomi snapped a woman's neck by snapping her fingers. Anna foiled a demon attack by using telekinesis before she had even recovered her memory of being an angel.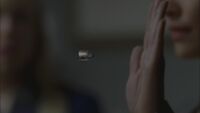 Demons use this ability quite frequently to pin people against walls and have done so multiple times to stop them from moving.
Angels use this ability as well but not as often, and it is often more powerful than demons. They also show incredible precision and greater control over this ability.
Ghosts also display this ability fairly frequently, one of their most displayed powers.
Most disembodied and incorporeal beings, such as ghosts and primordial beings without vessels, are able to use the ability without being present at the place where their target is, possibly by due to having supernatural senses to perceive beyond their present location.
Gestures and general bodily movements are used for this ability even by the most powerful of users, though it is shown that they even less powerful users do not necessarily need to.