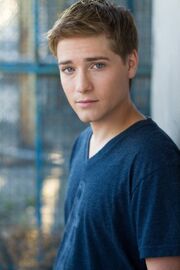 Travis Turner
(born in 1987), also known as
Little T
, is an actor, songwriter, singer as well as a comedian who is best known for his role as Bodi Grogan in the 2011 film
"Marley & Me: The Puppy Years"
. Turner began his career at the age of 6 starting off with school plays, then community theater and then professional theater. Turner was born in the small town of Oliver, British Columbia. He is also a business owner and entrepreneur in Vancouver, British Columbia.
Travis Turner as a child loved watching movies. His passion for watching movies became a passion for him to act. Turner's first role was when he landed a recurring role in "Caprica". He also got a role in the feature "Confined", alongside "Battlestar Galactica" star Michael Hogan.
In 2005 Turner got an award for outstanding male performance in a supporting role at the Alberta One Act Festival.
In 2010, Travis was very busy because he filmed the independent feature "Easter Bunny Blood Bath", and he booked a commercial to star in a Mattel games advertisement. Turner also had a role in Teletoon's "Tower Prep". He also had a role on USA's "Fairly Legal". His biggest and most important role was when he acted in "Marley and Me: The Puppy Years", the sequel to the popular 2008 feature film "Marley and Me".
Turner is a successful songwriter. Turner launched Mainstreet Live, British Columbia's only monthly live hip-hop showcase.
Turner regularly features on television and in full-length motion pictures. In Romania, he worked with Roger Moore, of James Bond fame, on A Princess for Christmas. Then, in TV's Supernatural, he featured as a vampire. He landed a starring role in Nickelodeon's sequel to Fairly Odd Parents, alongside Drake Bell and Daniella Monet.
Since moving to Vancouver, Turner has appeared in a lot of films, including "Scars", "Henchin'' and "Snow Tramp", which were shown at various festivals, including the Tao New Mexico Mountain, New Zealand Mountain, Vancouver Internation MidForms, New Media Festival 2009, Made in Vancouver and the highly regarded Hollywood North Showcase.
He portrayed Joe Silver in the season 6 episode "Mommy Dearest".
External Links
Edit
Ad blocker interference detected!
Wikia is a free-to-use site that makes money from advertising. We have a modified experience for viewers using ad blockers

Wikia is not accessible if you've made further modifications. Remove the custom ad blocker rule(s) and the page will load as expected.