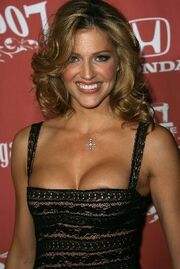 Tricia Helfer (b. April 11, 1974) is a Canadian actress whose credits include Ascension, Killer Women, The Firm, Dark Blue, and Battlestar Galactica. She was born in Donalda, Alberta and has three siblings.
In Supernatural, she portrayed Molly McNamara in Season 2's "Roadkill."
Recently, Tricia joined Fox's Lucifer in season 2, portraying the fallen angel's mother who escaped from Hell.
External links
Edit
Ad blocker interference detected!
Wikia is a free-to-use site that makes money from advertising. We have a modified experience for viewers using ad blockers

Wikia is not accessible if you've made further modifications. Remove the custom ad blocker rule(s) and the page will load as expected.