Vampires
Talk

3
1,902pages on
this wiki
Vampire
Season(s)
All Seasons
Species
Monsters
Status
Endangered
Title/Alias
Vamps
Bloodsuckers
Family
Eve (Originator)
Alpha Vampire (Progenitor)
Leviathan (Distant Relatives)
Monsters (Cousin Races)
"Most vampire lore is crap. A cross won't repel them. Sunlight won't kill them and neither will a stake to the heart. But the bloodlust -- that part's true. They need fresh human blood to survive. They were once people, so you won't know it's a vampire until it's too late."
- John Winchester, about vampires

Vampires, or Vamps for short, are a race of blood-drinking supernatural creatures that were once human. They have been encountered by the Winchesters, Gordon Walker and other hunters. However it has been stated encountering a vampire is very rare as hunters have hunted them near to extinction although due to their ability to reproduce by transfusion there only needs to be one for them to repopulate.
All vampires originate from the Alpha Vampire. Vampires are also one of the most frequently recurring supernatural creatures in the series.
Characteristics
Edit
They live forever, and several depicted vampires are hundreds of years of age or older. They also mate for life. Their diet is based strictly on blood, and while human blood is preferred, they can survive by ingesting the blood of other animals (although one such vampire, Lenore, refers to cow blood as 'disgusting'). Vampires must keep their victims alive or their blood becomes toxic to them. Vampires can only be killed by beheading, where they leave behind a corpse that can be examined to find their vampire teeth.
Vampires are organized into nests, with eight to ten vampires residing in each, with a mate for life. The younger members of the nest typically do the hunting for their elders, bringing back humans to be fed upon for days or even weeks.
Vampirism is spread by the ingestion of vampire blood or by its direct introduction to the human blood stream. These are currently the only possible methods of infection (tactile contact with Eve is no longer possible since her death), since many hunters are seen getting splashed in the face with vampire blood without being turned. This means that the vampire blood doesn't enter a person's system through the eyes, nose or unbroken skin. It may also mean that, in terms of ingestion, a certain quantity is required to cause the transformation, considering getting splattered blood on the lips may result in some entering the mouth, becoming mixed with saliva, and winding up swallowed. These limitations are very beneficial to hunters due to the fact that killing a vampire is usually a gory and messy procedure.

Newly turned vampires are always confused and disoriented, especially while adjusting to the overwhelmingly sharp senses and sensitivity to light. Bloodlust usually sets in after, and drives the newly turned vampire into a killing spree. They then normally seek the one who changed them, known as their maker, and usually accept them as their leader. Most of the vampires shown in the series develop or are integrated into a nest or hive mentality. These newly turned vampires are still half-human until they drink their first blood.
Vampirism is rarely curable, with the only known cure being a ritual recorded in a journal by an ancestor of the Campbell Family of hunters. The ritual calls for the blood of the new vampire's sire, and will not work if the subject has fed on human blood. The reversion is painful, but no secondary effects are retained. At least one cured vampire has retained all of his memories before he was reverted to humanity. However, the cure causes you to be sick for a few days.
This technique was used to cure Dean Winchester, on a girl who had been used to trick young hunters and Annie Jones.
Using the vampire resurrection ritual, a dead vampire could be resurrected. However, the person resurrecting the vampire had to get the vampire's soul from Purgatory and have access to their body. The ritual is then simple: drip the blood with the soul over the vampire's body and recite a spell. The vampire is then resurrected whole and undamaged.
Appearance
Edit
A vampire's appearance is that of a normal human. However, they all have common features, such as sharp, pointed, retractable teeth that emerge from their gums and extend beyond their human teeth. This set of fangs descend on the vampire's will, usually when about to feed, or when threatened or attacking. Some vampires have been shown to have sharp fingernails, but nowhere near as long as the Alpha's, which are more clawlike and can be made to extend at will. In Season One, vampire eyes give off eye shine like animals that are nocturnal, but this was no longer used in other seasons of Supernatural.
Powers & Abilities
Edit
The blood of the Alpha Vampire in their veins gives vampires many unique abilities.
Super Strength - Vampires possess strength that is greater than humans. Young vampires experience a formidable increase in physical strength; able to lift heavy objects and overpower grown humans. Older vampires, however, can overpower their own makers and other creatures. Boris, a 600 year-old vampire demonstrated his superior strength over Dean, who was at that time a new vampire who had yet to complete the transition, by easily overpowering him. 
Fangs - Vampires possess a set of retractable fangs. Their teeth are superhumanly strong and can rip open a human's neck and leave huge bite marks on the corpse of the victim it has fed on.
Super Speed - Vampires speed is greater than humans. It is possible that a vampire's speed, like their strength, increase with age.
Super Agility - Vampires possess amazing agility. They can climb up walls and jump off buildings without hurting themselves. Vampires also have greater reflexes than humans.
Super Senses - Vampires have extremely keen senses that are superior to those of humans. They can see in the dark, hear a human's heart beat, and possess enhanced sense of smell. A vampire can track a human's blood over long distances. John Winchester once warned Sam and Dean that, "Once a vampire has your scent, it's for life." Like their strength, their senses seem to increase with age, as Luther was able to smell Kate, while none of the younger vampires could.
Immortality - Vampires can potentially live forever. They can't grow old and don't acquire conventional diseases that affect humans.
Invulnerability - Vampires can not be killed by conventional methods, such as stab wounds or gunshots. Vampires have an extreme durability to pain. Kate was shot in the stomach with an arrow and merely sighed in annoyance, however they still react to punches and kicks in a similar manner to humans.
Regeneration - As long as they have enough human blood, vampires can quickly heal any wound that does not include amputation.
Super Stamina - Despite their hunger, vampires don't tire easily. Dean, who was at that time a new vampire who had yet to complete the transition, took on an entire nest of over twenty other vampires, in a fight to the death, and emerged almost unfazed.
Vulnerabilities
Edit
As with other supernatural creatures, vampires have weaknesses that hunters can exploit to defeat them.
Beheading - Beheading is the most commonly used method to kill vampires.
Dead Man's Blood - The use of blood from the recently deceased can also be used as a method to incapacitate vampires briefly.
Sunlight - While sunlight can hurt them, John Winchester likened it to a really bad sunburn; rather than being lethal it only causes pain to vampires. For this reason, vampires are primarily nocturnal, and will not go out while the sun is still on the horizon. They can also find other types of light uncomfortable, as vampires have increased sensitivity to light.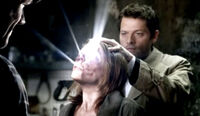 The Colt - As it can kill almost anything, it can be used against vampires.
Angels - Angels can kill them without difficulty. Castiel killed Lenore by just placing his palm on her head.
Vamptonite - Human blood with DNA altered by Leviathan corn syrup: This altered blood kills them quickly as though they have ingested a powerful acid.
Scent-blocking Mixture - A mixture of saffron, skunks, cabbage, and trillium into a fire will cover a humans scent to attack vampires. This will even cover another vampire's scent. However older vampires with their stronger senses, maybe able to overcome this.
Early History
Edit
Vampires were created by Eve and were some of her very first children. The Alpha Vampire was the very first vampire and he appears to have a psychic connection with other vampires. By the year 2006, vampires had been hunted so intensively and become so rare that John Winchester had thought they were extinct.
Daniel Elkins attracts the attention of a group of Vampires, led by Kate, who follow him home and kill him after a struggle. They take the Colt from him and Kate presents it to her mate and patriarch, Luther. The vampires live in an old barn where they capture tourists and feed on them, turning one such victim into one of their own. Their nest is invaded by the Winchesters and Kate is lured after them, only to be captured and infected with Dead Man's Blood. John Winchester uses her as a bargaining chip to force Luther to hand over the Colt, after which the vampires try to kill John and his two sons. John then shoots Luther with the Colt, proving the legend that it can kill anything. Earlier, John decapitated Hank and Dean decapitated Beau, two of the vampires, and two more were taken out with arrows soaked in Dead Man's Blood. These two are presumably later decapitated; however, Kate and the turned victim escape with their lives after Luther is killed.
Sam is captured by a group of vampires who have sworn off human prey and have chosen to feed on cattle instead, but they are still living in fear of being hunted. Their matriarch, Lenore, wishes for Sam to go back to his brother and the hunter Gordon Walker and ward them off hunting her kin. Gordon refuses to do so, however, and discovers the nest and tortures Lenore with Dead Man's Blood to prove to the Winchesters that all vampires are monsters. Lenore resists her bloodlust despite his methods of temptation. The Winchesters turn against Gordon and free Lenore, having seen her resilience.
A vampire called Dixon has been infecting young blonde women with vampirism in the hopes of rebuilding his lost family and repopulating the vampiric species. He converts them by feeding them his blood under the pretense that it is a recreational drug, administered either with an eyedropper or in a drink. One of the girls he has recently turned is caught and interrogated by Sam and Dean, which puts them on his trail, but the timely arrival of a vengeful Gordon prevents them from pursuing Dixon.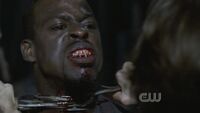 In a cruel twist of fate, Dixon captures Gordon and turns him into a vampire as punishment for the vampires he's killed in the past. Gordon is not a passive victim, however, and he uses his new strength to murder Dixon's girls and to escape. This drives Dixon to despair and apathy, and when the Winchesters find his lair, he admits to everything he has done. It is implied that the hunters killed him. Gordon, after escaping Dixon's lair, soon falls victim to bloodlust and feeds on human blood. He then continues his hunt for Sam by setting a trap, capturing and infecting another woman to work as a distraction and then isolating Sam so that he can attack him. Gordon underestimates Sam, however, and is subsequently decapitated with barbed wire. His victim is killed by Dean with The Colt after a struggle.
The Winchester brothers begin their supernatural investigation by looking into a vampire attack. However, the "vampire" turns out to be a shapeshifter who disguises himself as classic horror movie monsters, including Dracula.
In Limestone, Illinois, Sam and Dean investigate the disappearances of several young women. They discover that the most recent victim was obsessed with Twilight-style vampires, and that she was communicating with someone who claimed to be a vampire online. At the same time, a blood bank van is robbed. Sam and Dean go to a club called the Black Rose, the girl's last destination, and discover vampires trying to "recruit" new members. Sam kills one vampire, but lets Dean be turned by a vamp named Boris. The Winchesters return to their hotel room, and Sam calls Samuel. Dean, who is prepared to be killed by Samuel, sneaks away to bid Lisa goodbye. He is nearly overwhelmed by his hunger, but resists and returns to Sam and Samuel. Samuel surprises Dean by revealing a cure in one of his ancestor's hunting journals. In order to work, Dean must consume no human blood, and must acquire the blood of the vampire that turned him, so Dean goes to the nest of the vampires with a syringe of dead man's blood.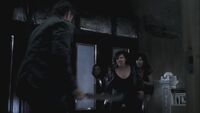 At the nest, a "recruiter" named Robert offers Dean blood, which he declines, and reveals that they are no longer allowed to kill people. Dean meets Boris, and tries to stab him with the dead man's blood, but Boris is too quick. Before Boris can kill Dean, all the vampires collapse, Dean included. He has a shared vision of the Alpha vampire, and perceives that the Alpha wishes to build an army. When he awakes, Dean fights the vampires in the nest. He eventually kills all the members, except one beheaded by Sam and Samuel, and acquires Boris's blood. Samuel prepares the cure and Dean drinks it. He vomits blood and passes out, but re-awakens as a human.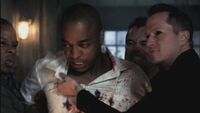 Samuel Campbell and his people capture the Alpha Vampire. They subdue him using an I.V. of Dead Man's Blood and attempt to interrogate him, but he is extremely resistant to pain and doesn't give Samuel any information. After Samuel leaves the room where he is being held, he is approached by Dean and Sam and he reveals to them that, though he is the first vampire, he has a mother. He also tells them that Samuel is torturing him for information about Purgatory and its location. Shortly after their conversation, he frees himself from his cage and almost manages to flee the area, but demons appear and take him away on Crowley's orders. It is revealed that Samuel has been working for Crowley, who takes Alpha Vampire to continue interrogating it about Purgatory. Apparently he is unable to get anything from him as in "All Dogs Go To Heaven," he sends them after what he believes to be werewolves in hopes of locating the Alpha Werewolf.
When Eve is making her way across the country in "...And Then There Were None," Bobby mentions that her presence has caused a group of vampires to act up.
Castiel brings Lenore to Bobby's house so that they can ask her for Eve's location. She is hesitant, but eventually tells them where to find Eve: in Grants Pass, Oregon. She then asks to be killed. With Eve on earth, her nest has abandoned her and returned to feeding on humans, and even she has given in to her bloodlust on one occasion. Sam and Dean try to persuade her that after Eve is destroyed things will improve, but Lenore is doubtful. Castiel places a hand on her head and kills her to move things along.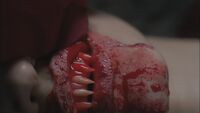 In Grants Pass, Oregon, they find Eve experimenting with creating hybrid monsters. On examination of some of the hybrids in a bar, Dean finds they have strange hybrid attributes, one creature has vampiric teeth in addition to the spike of a Wraith protruding from its wrist. Dean dubs these hybrids Jefferson Starships.
After capturing Red in "The Man Who Would Be King," Bobby compliments him on taking down an entire vampire nest and capturing them in Swan Valley. At the same time, Crowley has a captured vampire he experiments upon, discovering that when he burns or impales Eve's brain, it causes the vampire pain because there is still a connection between them even though she is dead.
Vampires return in the Season 7 episode "There Will Be Blood" after Crowley reveals to the Winchesters that the Alpha Vampire somehow escaped his prison before Castiel wiped out all the other Alphas. It's also revealed that the Alpha Vampire has made an alliance with Dick Roman and the Leviathans, and that the two races intend to jointly harvest humanity once the Leviathans have dumbed down the population with their DNA-changing food additives. In truth, however, the Leviathan have actually engineered the additive to also kill Vampires and other monsters, thus eliminating the competition for human prey. After the Winchesters expose this plot to the Alpha Vampire, as well as foil an assassination attempt by Edgar, the Alpha Vampire gives them some of his blood which is needed to kill Dick Roman.
While in Purgatory, Dean teams up with a vampire named Benny, who feeds only on blood transfusions from the blood bank, to find a way out into earth, along with Castiel. The three make their way through Purgatory heading for a way out that Benny knows that will work for a human. Benny believes he can hitch a ride with Dean as he considers himself a former human.
Later, Dean succeeds in escaping Purgatory with Benny's soul and performs a ritual that resurrects Benny at his gravesite. The two go their separate ways, but Benny later contacts Dean and they agree to not keep in touch for awhile, but that Benny can call Dean if he needs help.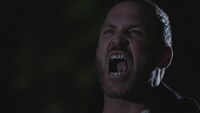 Benny, knowing that if his maker gets wind of the fact that he is alive will come after him, goes after his maker "
The Old Man
" to kill him first. He tries to get a vampire from his former nest named Quentin to tell him where his maker is, but Quentin ambushes him with two other vampires. Benny wins the fight and kills all three vampires, but is badly injured and calls Dean for help. Dean brings Benny blood from Benny's truck to help him recover and Benny explains what he's doing so Dean decides to join him. The Old Man and his former nest are vampire pirates or "vampirates" who ambush private yachts going on long journeys, drain the crew, then sink the boats. Benny fell in love with one of the people he ambushed,
Andrea
and left his nest for her. Consequently, was killed for it and Benny believes Andrea was killed as well. Benny wants revenge and knows his maker will come after him if he finds out Benny is alive again. Finding the nest on Prentis Island, Benny is shocked to find that Andrea has been turned into a vampire and is captured. Dean escapes and kills all of the vampires in the nest while Benny escapes with Andrea's help, kills a vampire named Sorento and confronts The Old Man who refuses to fight back.
Benny kills The Old Man and is shocked to learn that instead of wanting to completely destroy the pirating operation and start a new life with him, Andrea wants to take it over herself. Benny realizes to his heartbreak that the Andrea he loved is dead and as she goes to attack him, Dean kills her from behind. Benny is left completely distraught and heartbroken and wonders why Dean brought him back when he could've pretended to help. On the mainland, Benny meets Sam and leaves, recognizing that Sam and Dean need to be alone.
A rouge vampire named Desmond decides to create his own nest and tries to entice Benny, who has moved back into his hometown in Louisiana and is looking after his great-granddaughter Elizabeth secretly, into helping him. However, Benny refuses so Desmond warns him that he will kill someone every night until Benny agrees. Desmond's first victim draws the attention of mentally-unstable hunter Martin Creaser who is following Benny and believes him to be the killer. He calls in Sam and Dean, but Dean believes Benny's story even after finding him after he buries Desmond's second victim. Despite Dean's belief, Martin and Sam go after Benny until Dean tricks Sam into leaving. Dean and Benny go after Desmond after Benny pretends to agree to join him to learn where he is and in the confrontation that follows, Benny kills Desmond. However, seeing Dean bleeding from an attack stirs Benny's bloodlust.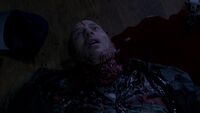 Afterwards, realizing that the situation means he can no longer stay there, Benny leaves, but Martin, obsessed with killing Benny, kidnaps Elizabeth to force him to return. In the confrontation that follows, Benny pretends to allow Martin to kill him, but turns the tables on him and in the fight that follows, rips out his throat, killing him, before fleeing.
Benny calls Dean for help after his loneliness starts to get to him. Though Dean, who believes Benny's story after learning what happened from Elizabeth, promises to meet Benny for coffee once the case he is on is over, he later calls Benny to say a final farewell, having decided to cut all ties to the vampire.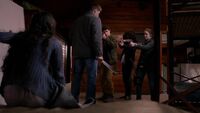 In Conway Springs, Kansas, a group of young hunters are killing vampires as they have supposedly killed their families. However, these vampires are revealed to have been newly turned and the true killer, Seth, is working with their mentor Victor Rogers in exchange for being left to roam free so he can create the next generation of hunters. After learning the truth, Krissy Chambers takes Seth down with darts filled with Dead Man's Blood and he is presumably killed. Seth's blood is then used to cure his latest victim who hadn't drank human blood yet and was  later, saved.
In Purgatory, a vampire attacks Sam, but after he stabs it in the stomach with Ruby's Knife, Sam decapitates him with the vampire's own blade.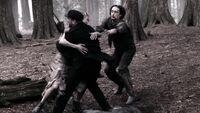 After learning from Naomi that Sam got to Hell through Purgatory and that Ajay is dead, Dean goes to Benny for help. Benny agrees to let Dean kill him and then lead Sam and Bobby Singer to the portal out as he doesn't feel like he belongs on Earth. After agreeing to see Benny when Sam returns, Dean decapitates him.
Three more vampires attack Sam and Bobby. Sam kills two, but the last one nearly overpowers Bobby before Benny rips out his throat. Recognizing Benny, Sam lets him lead them to the portal out where three more vampires, enraged at Benny working with a Winchester again, arrive to attack. Having never intended to return to Earth, Benny stays behind to hold the vampires off and is last seen fighting them as Sam escapes.
In Devil May Care, hunter Tracy Bell pretends to be having car trouble and a man who is really a vampire offers her a ride, planning to feed on her. Tracy takes the ride, but overpowers and kills the vampire in the struggle that follows, leaving his headless body and van on the side of the road.
During the events of Slumber Party, Charlie Bradbury later tells Sam and Dean that as one of the hunts she did she killed a teenage vampire.
While hunting down Cuthbert Sinclair during Blade Runners, Sam and Dean are confronted by two vampires from his "zoo" as a test and easily kill them.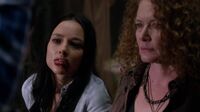 In Alex Annie Alexis Ann, a young woman named Alex is arrested in Sioux Falls, South Dakota and is attacked by her vampire "brother" Cody as she ran away from the "family." Sherriff Jody Mills kills Cody and calls in Sam and Dean to hunt the nest and protect Alex who they learn was kidnaped several years before and has been acting as a lure for people who won't be missed for her "family." Feeling guilt for her lifestyle, Alex ran away, but is recaptured by her "mother" Celia and her surviving "brothers." Sam, Dean and Jody hunt the nest down and are all captured, while Alex agrees to be turned into a vampire. Connor and his surviving brother try to drain Sam and Dean of blood, but Dean recovers, kills both and frees Sam before heading off to save Jody. Jody realizes that Celia kidnapped Alex to replace a daughter she lost a long time ago and Celia nearly kills her after Alex refuses to, but Alex injects Celia with Dead Man's Blood and Jody kills her. As Alex hadn't drank any human blood yet, Sam and Dean are able to cure her and Jody helps her through the ordeal.
During "Bloodlines", while visiting a monster club, Ennis Ross is confronted by a waiter Maurice who is revealed to be a vampire. Ennis tries to kill him with a gun armed with silver bullets to no avail and is nearly killed himself before Maurice is decapitated from behind by Dean. Sam and Dean later explain to Ennis what Maurice was as he'd never encountered a monster before.
Known Vampires
Edit
Appearances
Edit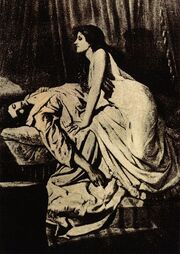 According to most lore, vampires subsist by feeding on the life essence (generally in the form of blood) of living creatures, regardless of whether they are undead or a living person. Although vampiric entities have been recorded in many cultures, the term "vampire" was not popularized until the early 18th century, after an influx of vampire superstition into Western Europe from areas where vampire legends were frequent, such as the Balkans and Eastern Europe. This increased level of vampire superstition in Europe led to mass hysteria and in some cases resulted in corpses actually being staked and people being accused of vampirism. Local variants of vampires were also known by different names, such as vrykolakas in Greece and strigoi in Romania.
The Vampires in Supernatural resemble original vampire folklore, such as unable to be repelled by a cross, not supernaturally beautiful, can't be killed by sunlight, and can't be killed by a wooden stake to the heart, but could only be destroyed by beheading or by buring them to death. However, original vampire folklore also have vampires being repelled by garlic, iron, and can not cross a line of seeds, salt, and running water. Vampires appeared differently in folklore than just ordinary people with retractable teeth. Folklore vampires have ruddy or dark skin, bloated body, blood seeping through the mouth, long nails and grown hair, red glowing eyes, supernaturally strong teeth, and a smell of decay. According to folklore, Vampires tradtionally slept in their graves and hunt at night, they would first feed on the blood of their whole family and once it had killed them all, the vampire start to feed on other people in its community and spreads its curse to other and turns them into vampires as well. Folklore vampires were said to possess the power of shape shifting into many different shapes, including animals and even mist, spread diseases (which killed the victim and turned them into a vampire), great strength and agility (but only strong enough to overpower victims), and were said to be sexually insatiable.