Violent Spirits
are a very dangerous type of
ghost
who are motivated by cruelty rather than vengeance or attention seeking.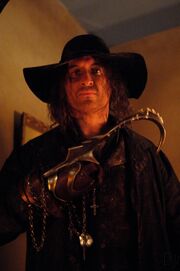 Characteristics
Edit
Unlike Vengeful Spirits, who are the ghosts of those who have some wrong done to them in their life, Violent spirits are usually the ghosts of evil or cruel people (or at least had something wrong with them), who in their lives brought pain and suffering to others, and in their deaths continue to do so.
Due to this Violent spirits are normally among the strongest type of ghosts, and possess great powers.
Known Violent Spirits
Edit
Appearances
Edit