Weather manipulation is the ability to control, manipulate or generate the weather.
Characters with this ability
Edit
Unlimited weather manipulation
Edit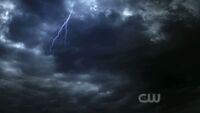 Advanced weather manipulation
Edit
Common weather manipulation
Edit
Below-average wielders
Edit
Objects with this ability
Edit
Characteristics
Edit
Electricity
Edit
Archangels can manipulate and cause traumatic lightning storms. Azazel, also, by his mere presence, was able to cause storms. Death can create a massive rallying of lightning storms. Abaddon's screaming induces lightning and thunder.
Archangels can cause raging rainstorms or tsunamis, as can Death.
Both Death and Lucifer can control the air. Death can create hurricanes, as can Lucifer, but he typically summons tornadoes. Azazel's presence caused sudden gusts of wind; his "daughter" once also caused a sudden wind.
Temperature
Edit
Lucifer can negativity alter the fluctuation of temperature, being able to make things extremely cold, and Madge and Edward (as Deities of the Winter Solstice) can generate mild weather. Azazel's presence is enough to cause massive temperature fluctuations in the area that he's in. Both ghosts and Leshi are able to cause the temperature to drop, but only in the room that they are in (Leshi may be able to do more as it was posing as a ghost at the time).
Ad blocker interference detected!
Wikia is a free-to-use site that makes money from advertising. We have a modified experience for viewers using ad blockers

Wikia is not accessible if you've made further modifications. Remove the custom ad blocker rule(s) and the page will load as expected.